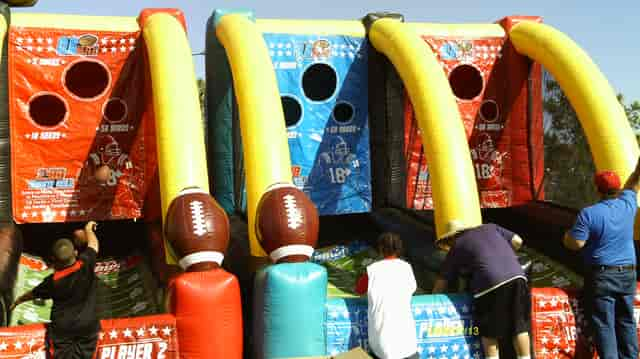 Inflatables & Equipment
Add some adventure to your event with an inflatable slide, maze or bounce house!
Picnic Specialties offers much more than fabulous food and superior service at great prices. Our entertainment packages feature creative and exciting activities, non-stop games and competitions for all ages. Some games take more space, check your restrictions.

Conduct a site walk at your location and review access to water, power, bathrooms, garbage disposal, and vehicle accessibility.
Games
• Includes net
• Boundary markers
• Volleyball
• (60' x 30')
• Includes Course Boundary Markers
• Balls
• Target jack 
• (110' x 14')
• Includes 2 Stakes
• 4 Shoes 
• (50' X 10')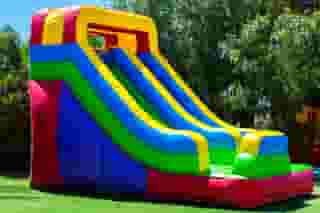 Inflatables Appropriate for All Ages:
Picnic Specialties has clean, well-maintained inflatables complete with all power and air blower equipment and a trained uniformed staff attendant for 4 hours.
Inflatables
A medium sized slide great for children of all ages
Go big or go home! See how fast you can go on this high riser slide.
The classic bounce house with padded walls and enough room to spare.
Jump over the moon with this space inflatable.
Wind your way through this castle maze and you'll think you're in Camelot.
Tri Sport–Basketball, Baseball, Football
Like sports? Then this is the inflatable for your next party.
Challenge your partner to a dual in our fun jousting bouncer.
Inflatable Pop-A- Shot Basketball
Go one-on-one with a friend and see who can make the most shots in a row.
Other Fun Stuff
Children Under 3 Years of Age
• Climbing Wall
• Dunk Tank
• Zipline
• Game Trucks
• Includes Decorative Red and White Striped Booth with Signage
• Attendee Wrist Bands
• Name Tags

• May Include Attendant
Fun for Large Groups! 

• Includes Cards
• Cage
• Prizes
• Our Caller or Yours!
Canopies and Tents
These easy to set up shade tents are perfect for localized seating, additional shade or even food buffets. Their light weight and portability make them ideal for small to mid-sized events
Our larger canopy tents are used primarily for vendor fairs and registration. However, you can choose to have us set them up wherever you like.